Up and Over Garage Doors
Up & Over doors are a safe and reliable solution for your garage door opening.
Available in a variety of styles and materials, including steel, timber or GRP, you are sure to find a door to suit your home.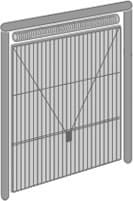 Our steel Up & Over garage door range offers excellent value for money, without compromising on quality, and are available in a choice of ribbed and panelled designs finished in white as standard & also available in a variety of popular colours as well as traditional Golden Oak & Rosewood.
Our timber Up & Over garage doors are separated into two ranges, the Solid Cedar range which is constructed from solid red cedar, and the Elizabethan range which is built from a combination of plywood and solid red cedar.
Timber doors provide natural beauty and warmth that can only be found with real timber; with the right care and attention these doors will last for years to come.
Our GRP Up & Over garage door range are beautiful with a choice of smooth high gloss white and several timber effect finishes to suit both modern and traditional properties.
These doors are very low maintenance and long lasting and are therefore a great choice for your home.
All our Up & Over Garage Doors are constructed with a rigid box section chassis for strength and stability.
All up & over doors are available in a choice of canopy, retractable or retractable plus gearing.

Up & Over doors are available in either Canopy or Retractable (Tracked) options,if you have a Garage Door in Devon that you are thinking of automating then we highly recommend the Retractable gear has it is a lot smoother in operation than the Canopy.
Ideal for single garage door openings up to about 10 ft wide as a manually operateddoor.
Although they are manufactured over this size up to and including 16 ft wide Sectional or Roller doors tend to be a better option in the larger sizes and a better price too.
Up and over doors are in the main very easy to install, especially if you purchase the door with the optional steel fixing frame as the whole unit comes pre fitted and are ready to secure to the garage opening with brackets.
The double sized doors are a bit more involved with the steel frames coming in kit form ready for onsite assembly and obviously more weight to deal with.
We would advise the up and over garage doors if you want a garage door for a garage which doesn't require weather protection, sealing or even insulation although the Garador, Hormann and Cardale doors are about as good as you can get, especially if ordered with the optional steel frames.
Another reason for having an up and over door is if you require a specific design in timber or GRP as the standard designs available for up and over doors are quite a lot more varied than others, If you live in Kingsteignton and wish to speak to us about an up and over door or any Garage Door in Exmouth or Devon call us on the above number.
The steel doors available are more limited in designs and will only ever have the smooth finish surface in although over the last couple of years manufacturers have been adding colour options, although great if you want white as this is the industry standard colour.
Garage Doors in Kingsteignton are available as Up & Over doors in Steel, Timber GRP & ABS.
UP & OVER GARAGE DOOR PHOTOS
Supplying & Installing Garage Doors & Remote
Control Systems Since 1982
Get your free no-obligation quote today!
Recommended Manufacturers
We are constantly monitor products available from the very best manufacturers, and we are recommended installers/suppliers of the following companies